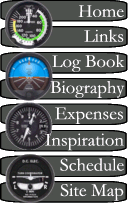 BEST
of POD

Beginnings for a Big Nerd
---
I was born in Reno, NV around 31 years ago, and have lived in 7 states since. I am married and have 2 children, both boys, who are 7 years apart.
I currently work for a major software company programming websites and web-based applications for use the telecommunications industry. Feel Free to look at my Resume.
My dreams of becoming a pilot started when I was about 12, when I found my first small airport and saw a light airplane touch and go. My dream was almost fulfilled while in high school. I went to a presentation from a local FBO offering about $8.00/hr to detail planes. The money earned, however, was to be applied to a credit at the company for training and flight time. I thought little about it then, even thinking it rather cheap of them. I didn't take this opportunity, and kicked myself in the head for it about 10 years later.
In May of 1999 I got the bug again, and that is what this site is about....